Option img
Special options
Special belt for glass loads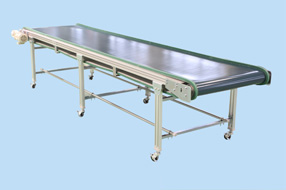 We have manufactured a conveyor belt for use with glass loads that reduces the surface area of the glass contacting the belt by adding two spongy ribs welded to the surface. Feel free to inquire about custom designs for your special belt needs.

Easy-replacement tables
We have manufactured conveyor equipment with tables that can be easily removed and replaced, for easy cleanup after serving processes in food plants. Table types and positions can be changed to meet various operation needs. The conveyor belt is our TBC200 model, enabling easy removal and replacement in a single operation. The equipment helps food plants maintain sanitary standards.